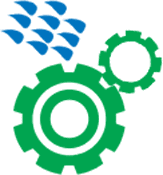 Spot Free Systems
Carolina Pride has developed a superior Spot Free Rinse system to treat your hard or soft water. Industrial grade components and several and systems that can handle several capacities makes these water quality systems the right choice for your Spot Free Rinse feature.
Super Flo-R.O.
SPOT FREE RINSE SYSTEM
The Super Flo-R.O. Series is designed to handle on-site water quality issues and provide the solution you need for your spot free rinse feature. You can expect an increase in wash revenue, vehicle shine, time sold in bay, and an overall better ROI.
How It Works
Using a technique called "cross-flow filtration,"  water is passed through a permeable membrane. A third of the water is allowed to permeate the membrane, removing most of its impurities, while the remaining water passes over the membrane's surface, removing anything left behind. The water which has passed through the membrane is now ready for use.
Super Flo-R.O.
Hard or soft water solutions for
spot free rinsing
.
Three System Variations to Meet Your Needs
Carbon Tank With Auto Back Flushing Head
Production & Reject Flow Meters
TDS Meter & Easy Access for Servicing
Wall Mount Design – Standard (Legs Optional)
Pre-Filter – Standard
2200, 4400, 6600, 8800, or 13000 Gal. Per Day
Multiple Delivery Pump Options Available
1.5 hp, 2 hp, or 3 hp.
Optional Conditioner for Sites Less Than 50 Grains of Hardness
Optional In-Bay Covers Available
.

Delivery pumps available in 1.5 hp, 2 hp. and 3 hp.
Maintain a reservoir of R. O. rinsing water with 750 gallon or 350 gallon storage tanks from Carolina Pride.