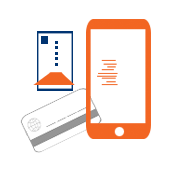 Payment Solutions – Self- Serve
Security, reliability, and ease of use are what Carolina Pride car wash payment solutions are known for. You can depend on the mechanics, technology, and support that we provide that insures consistent revenue collection for your Self-Serve car wash.
Meter Vaults
Secure meter vaults with multiple payment
options is a proven solution for your wash.

The Mercury System is web based, mobile, and connects easily with
existing CC readers to provide advanced reporting.  learn more
Meter Boxes

The Vault
The newly designed
meter box vault.
Strong – Secure – Dependable
.
7 Gauge Stainless Steel Construction
Double Medeco Security Locks
Eye Catching Graphics
99.8% Efficiency Factor
Accepts Credit Cards, Bills, & Coins
12 Function Push Button Selection with LED Back Lit Indicators
Dimensions: 16" x 12.5" x 8.5"
.
Accepts Credit Cards, Bills & Coins
10 or 12 Position Push Buttons
Accepts Bills & Coins
8, 10, 12 Position Rotary Switch
Meter Box Features
Digital Displays
Stainless Steel Frames
Front Access Panel
Electronic Coin Acceptor
Plug in Wiring Harness for easy servicing
Pre-Fabricated Holes for easy access
Options
Bill Acceptor
Credit Card Acceptor
Multi-coin Acceptor
Rotary Switch or Push Button Selection
Add an Attached Secure Coin Drawer
Custom Graphics
Special Design Features
Doors hinge down and are self
supporting for easier access and
servicing. Also, our mult-meter
bill acceptors include a security
strap to help protect cash.
Replacement Meter Doors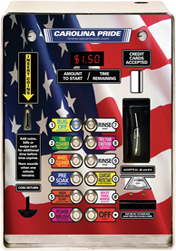 Flag Design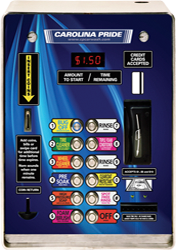 Blue Flame
Custom Design
Vault Bill Acceptor
& Card Reader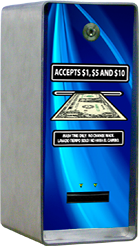 Bill Acceptor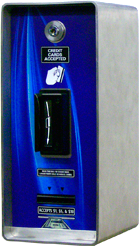 Credit Card Acceptor