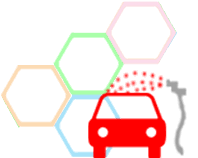 Solutions Tailored To Your Needs
At Carolina Pride, our superior cleaning solutions are the foundation of building business you can rely on. We have partnerships with the top brands that insure you get the right solutions for your wash. Our goal is to tailor a cleaning solution to you that delivers value to your customer, profit to your bottom line, and above all, a clean and shiny finish.
Achieve a Total Cleaning Solution
The philosophy behind car wash cleaning and conditioning is simple; the goal is to consistently provide every customer with a clean and shiny vehicle. However,  achieving that goal requires water analysis, chemistry and other technology and training.
Carolina Pride Carwash Inc. knows that one size does not fit all when it comes to cleaning solutions. It takes a good team to get you the solution you need and Carolina Pride has one.  Schedule Your Free Site Analysis Now
The ZEP family of vehicle care solutions includes ArmorAll, RainX, Blue Coral, and Black Magic brands.  They are designed to compliment each other and produce a quality finish that will build a loyal customer base.
Add to your car wash offerings and ignite consumer interest by making the #1 auto apperance brand available to  you customers. Promote add-on service offerings with exciting new merchandising options.
Utilize the #1 add-on extra service in the car wash industry to drive top package sales.  Our new campaign supports the pre-and post purchase decision by reminding customers that Rain-X Complete can outsmart the elements.
Get a clean start on your marketing with eco-friendly, effective cleaning products from the Blue Coral line.  Make an impression with new imagery and messaging for one of the most trusted brands in the business.
Nothing makes your clean car stand out like well dressed tires from this powerful brand.  Make the most impact with merchandising that supports Black Magic brand.
Qual Chem is the next generation of car wash chemistry.  Nanosheenology specializes in custom formulating chemistry to the equipment, water quality, geographic location and the needs of the operator, in order to deliver the cleanest, driest and shiniest vehicles in the industry.
Q NanoClean is a new foaming cleaner formulated to better prepare the vehicle surface to optimize protectant applications.
Q NanoGloss is a solvent-based tire dressing with quick-dry technology to eliminate sling.
CK chemistry is known for developing specialty chemicals that have been serving the car wash industry for over 36 years.  They offer a complete line of detergents, soaps, waxes and other products to meet your specific car wash needs. The Signature Chemical Unit Bottle Apparatus or SCUBA method of solution distribution makes it easy to keep your equipment room clean and maintain your chemistry at the proper levels.  Eliminate the drums and even free up floor space with the optional wall mount system.
From Bug Remover to Clearcoat Protectant and Sealants, the Signature Series of premium products from CK chemistry sets itself apart with a guarantee of performance.   The solutions experts at Carolina Pride Carwash Inc. will be able to advise and counsel you on the best combination of vehicle cleaning products for your particular wash.
The Simoniz brand name is known throughout the world as the leader in car care waxing products. Carolina Pride Carwash Inc. has partnered with Simoniz to offer wax and sealant products that are designed to put the "WOW" in the vehicle finish. When customers see the difference in the finish and know the value of a Simoniz brand, that translates into added revenue for each car wash operator.
Simoniz has now reduced hand waxing of vehicles to a push button…a unique application that applies an actual carnauba wax to the entire vehicle…on-line!
The Simoniz Lava Shield experience adds a high end on-line process that visibly makes a difference to a vehicles surface. The result is seen as a great value by the end user car wash customer and a money maker by the car wash owner.